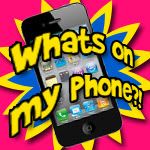 I've decided I'm a creeper. I can't stop looking at this picture in my phone. ( I know I already used it once for Wordlesss Wednesday but...oh well! lol) Its everywhere, from my background to contact picture for him. I'm so excited to have him here with me in only 11 days!!
I have this one friend named Kayla, she has a dark side, I think she wants me fat for a reason...
Me and Billy!!! *Hi Billy!!!* We were cleaning an elementar school for community service and foudn these glasses, I felt cool lol
My reason for laying out of school today!!! Would you wanna drive in that?
My responses to the ATT guy who kept knocking on our door...yes I am BA I know :) I also brought my 120lb dog inside...I am not ashamed!!!